Watch the video or follow the instructions below: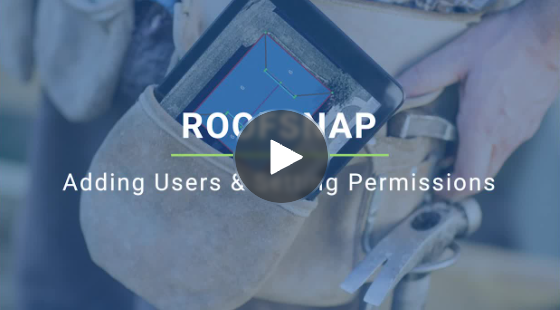 You can access your user settings within your RoofSnap Account Management page. On the Web App, click the three white lines next to the RoofSnap logo in the upper left corner and select "Offices & Users".
From your Account Management page, click the "Users"

tab on the left side of the screen.

Then click the green Add User button at the top of your user list.
Fill out the fields and click the Register button. (If you get an error alert, the email address associated with your user may already exist in our database. Send a message to support@roofsnap.com and we can refresh the email.)
To set permissions, click back to "Users" on the left-hand menu.
Select "Edit" by the new user's name.
Fill out the fields and assign them the appropriate Role (Admins have full access to the App as well as the account through the website, Sales App only has access to the App side) and assign the user allowances with the checkbox fields under the user role. Click "Update" to save.
Scroll to the bottom of the Edit Sub Account screen and add the user into the office(s) that are applicable.
Note About User Seat Costs:
Adding a user to a monthly plan will bill the subscription a pro-rated amount for the month, then $99 per month/user each month following.
Annual Subscriptions can freely add users up to the number of users seats included in their plan. If the plan-included user seats are all in use, contact our success team to add more.
While in trial you can add users to an account like monthly users. The account will be billed $99 for each active user should you choose to subscribe.