Summary: You can control whether your Estimate pricing reflects the specific measurement quantities for material items based directly on the measurement diagram figures, or if you prefer the price charged to your customer to reflect the full package quantities.

NOTE: The package quantities on your Material Order ALWAYS round to the orderable quantity, this setting simply dictates whether or not your Estimate prices reflect those whole orderable package quantities, or the specific amount needed for the job.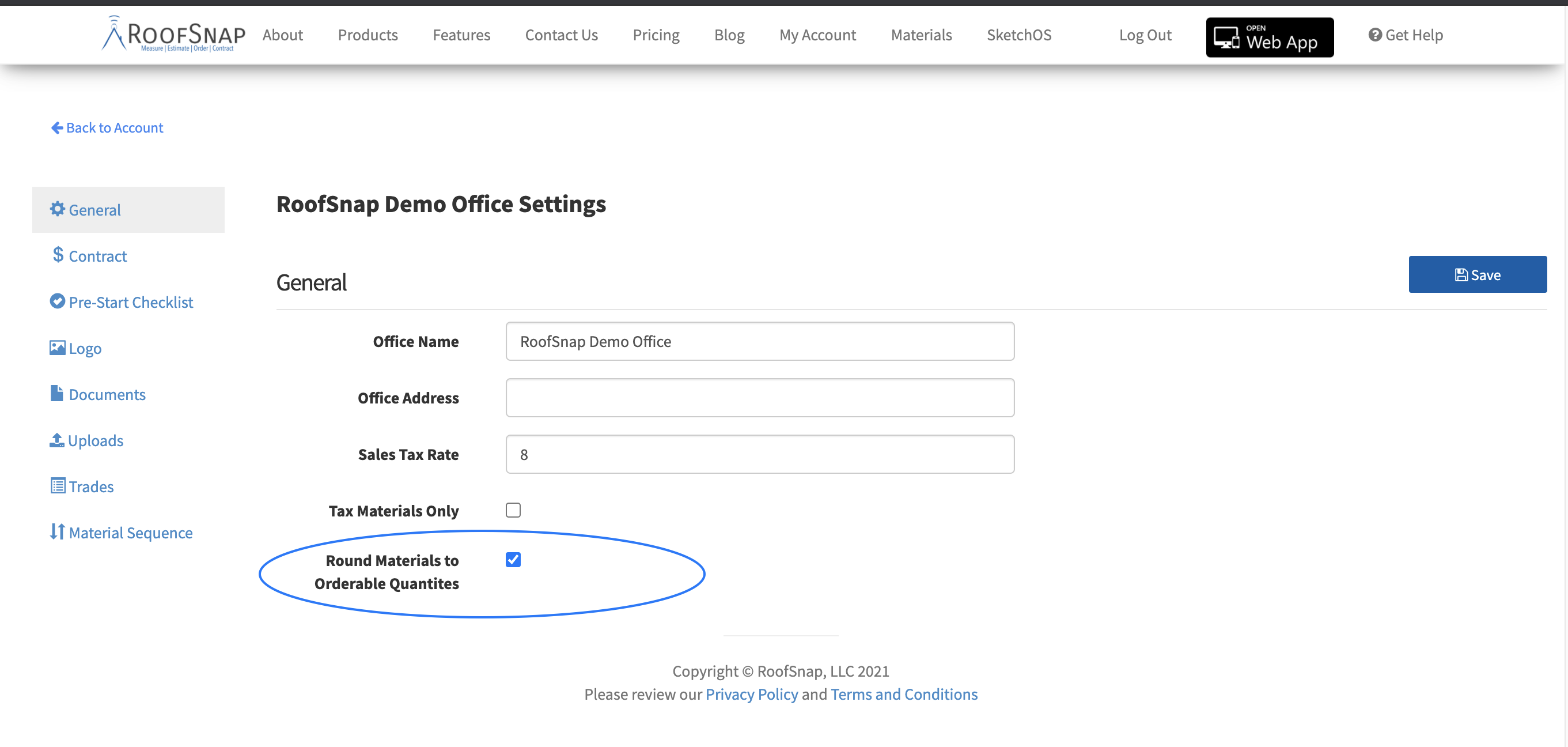 To access this setting, navigate to your Offices menu on the left side of the My Account page and click EDIT next to the desired office. You will see this checkbox for Round Materials to Orderable Quantities on the General office settings. Selecting the checkbox enables the setting.

This can be independently set for each Office on your account.

Enabling this setting will cause the prices to be calculated from the whole package quantities (ie bundles, rolls, boxes) needed for the job based on the item's Coverage, as opposed to charging your customer based on the quantities needed for the specific measurements of the roof.

This includes pricing in the following aspects of the project:
- Estimate Menu Screen
- Estimate PDF (Single and Comparison)
- Contract PDF
- Material Cost shown on the Material Order PDF

For example, if you have a roof that measures 50.5 total squares, RoofSnap will calculate how much underlayment is needed based on the Coverage set for your underlayment item in the Materials settings.

Let's say we're using a synthetic underlayment that has a coverage of 10 squares per roll.

No matter if you have this Round Up setting enabled or not, the quantities on the material order PDF will always round up to the whole orderable package based on the coverage figure.

In this case, with a coverage of 10 squares, you would need 6 rolls to cover 50.5 squares worth since the item is purchased in whole rolls.

If the setting is not enabled (unchecked), the price for the item in the estimate will be based off 50.5 squares.





If the setting is enabled (checked), the measurements in the estimate menu will be rounded up to full package amounts, which would be 60 squares in this case, and the price for the item in the estimate will be based off 60 squares.